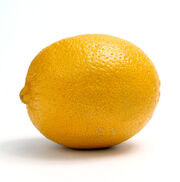 The Travelling Lemon is a game that Douglas enjoys playing.
How to Play
Edit
The objective of The Travelling Lemon is to hide a lemon in plain sight among the passengers on a flight, so that another player can find it and hide it again. The lemon may be replaced by other citrus fruit if it is mutually agreed to by the players before the game begins.
On a flight to Miami, Carolyn and Douglas achieved a rally of 16. On the flight to Qikiqtarjuaq, they played the game to annoy Nancy Dean Liebhart, a passenger who tried to tell Carolyn how to behave professionally.
The closing line of the whole series (Zurich part 2), "The lemon is in play..."
Appearances
Edit
Season 3 episode 1 "Qikiqtarjuarq"
Finale episode, part 2 "Zurich"