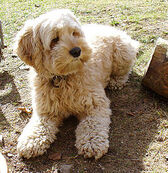 Snoopadoop, the cockapoo. Noblest of hounds.
- Herc
Snoopadoop is Carolyn's pet dog.
Personal life
Edit
Snoopadoop is a female cockapoo, a cross between a poodle and a cocker spaniel. According to Carolyn, Snoopadoop is a noble and faithful hound, but Herc thinks that it is a "ridiculous" dog.
Snoopadoop is so named because Arthur was the one who named her.
Appearances
Season 1 Episode 1 "Abu Dhabi"
Season 3 Episode 4 "Ottery St Mary"