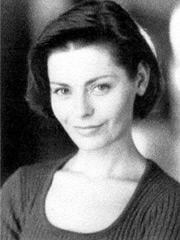 Avoid approaching her with blunt instruments, sharp knives, or hot liquids. Terrific. How am I supposed to serve her dinner?
- Carolyn
Madame Szyszko-Bohusz is a one time character who appears in series two's "Gdansk". She is a member of the orchestra that is travelling with MJN Air in the episode. She takes her name from Ulitsa Adolfa Szyszko-Bohusza, the name of a street in Kraków where John Finnemore lived when teaching English in Poland during his gap year.
Carolyn is warned before the flight that Madame Szyszko-Bohusz will be a difficult passenger as she is extremely paranoid and will think that somebody is trying to kill her.
She performs with a chamber orchestra, and performs as a basoonist, which she is very fanatical about, saying 'never am I separated from my bassoon'.
She constantly finds things to blame for trying to kill her, for example;
Salt on her cashew nuts was 'big and jagged' so she assumed it was broken glass
Someone had tampered with her arm-rests and she suspected they were spying on her
Since she had not seen Arthur before, she assumed he was dangerous
She suspected Goofy was an aeroplane safety code and she was in danger
She thought there was poison in the cheesecake after Arthur advised her not to order it
Behind the Scenes
Edit
Madame Szysko-Bohusz is played by German actress Britta Gartner.