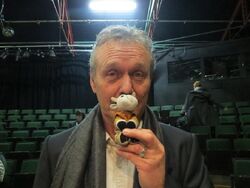 Douglas: "Oh dear. That won't go down well with Herc the berk"
Carolyn: "Do you mind not calling him that?"
Douglas: "I'm sorry. Hercules the berkules?"
— Douglas and Carolyn
Hercules "Herc" Shipwright is a recurring character who appears in multiple episode of the show and is in a relationship with Carolyn. He lives in Zurich. At the end of the series, he has become the first officer at MJN Air.
Character
Edit
Hercules is a Captain in Air Caledonia, and previously worked with Douglas Richardson in Air England. They may be 'frenemies', since according to Douglas, Herc thinks that "he is the best thing to happen to the sky since rainbows" and replies "Not quite" after Douglas asks the Comms Unit "Is that God?". They seem to have a more positive relationship in Newcastle, as the two are only seeing each other for a brief period of time, it is possibly the increased exposure that causes their generally friendly relationship to grow more sarcastic.
At 57 years old, Herc fears he may lose his job when Swiss Airways buys Air Caledonia. He is also ovinophobic.
Personal Life
Edit
Hercules was named by his "eccentric" father after the aircraft rather than the hero. He has two brothers (Wellington and Harrier) and a sister, Sarah. He has been divorced four times, in comparison to Douglas's three.
Hercules owns a Mercedes, is fond of opera, is a vegetarian and is afraid of sheep. 
Behind the Scenes
Edit
Hercules is played by actor Anthony Head.